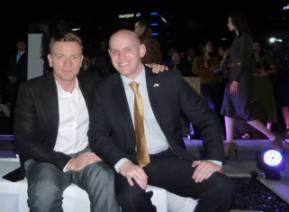 I'm lucky in South Korea to live in such an exciting and rapidly developing environment. This is as clear from the many large urban infrastructure projects that form around us almost overnight as much as it is from the plethora of consumer goods stores - many foreign owned - which pop up on a nearly daily basis.
The UK has long been involved in this story and continues to be a significant player in its development. For example, large consumer goods retailers familiar to us in the UK such as the Body Shop, Lush and Marks & Spencer are all active in Korea, as are smaller or boutique retailers such as Paul Smith, Cath Kidston and Lulu Guinness.
British architecture and design companies like Benoy are working on significant retail construction and design projects such as IFC Seoul and the 2nd Lotte World building. And famously, British engineering consultancy and project management firms AMEC and Arup worked as part the consortium that delivered Incheon Bridge (described as one of the 10 wonders of the construction world) too.
But aside from the business of literal bridge building, there are symbolic bridges forming too. I recently attended a press conference at the British Embassy in Seoul where British Airways formally announced their intention to re-start service on their London Heathrow to Seoul Incheon route with 6 flights a week from December. This was hot off the tracks of Korean Air opening a second UK route through London Gatwick in April this year.
Celebrities have started to take note of our closer commercial and cultural linkages too. Pixie Lott, Jamie Oliver and Morrissey all graced our shores in recent months. And both Radiohead and the Stone Roses are scheduled to attend South Korea's annual Jisan Valley rock festival later this month.
Here I am with Ewan McGregor at Shinsegae Department store (an exclusive South Korean national retailer) at the opening of a British themed sales campaign called Shinsegae Loves Britannia. The campaign provided a spotlight for British brands to highlight and market their products to Korean consumers on the back of excitement generated by the Olympics and the Queen's Diamond Jubilee. You'll notice the models showcasing British fashion, design and style behind us.
Oh, and on the topic of the Olympics, South Korea and the UK will also enjoy another bridge between them very soon too - as countries which have both hosted the Olympics multiple times.
South Korea's Pyeongchang 2018 winter Olympics - its second following a summer Olympics back in 1988 - present a fantastic opportunity for British firms (brimming with expertise following another special Olympics I might care to mention) to share their know-how with the Korean organisers.
Examples include the Arena Group which manufactures infrastructure and seating for collapsible stadia, or ICON which have decades worth of experience in event branding and city dressing for major events. They're offering to bring British expertise to a Korean and international audience and are aiming to generate lucrative business in the process.
So in the end, whether you're selling clothes or construction, flights or films, skis or stadia, the picture is clear - Korea's an exciting market for UK products!
To find out more about how UK Trade & Investment can help your business flourish in South Korea visit http://www.ukti.gov.uk/southkorea
Laurence Burrows, UKTI South Korea