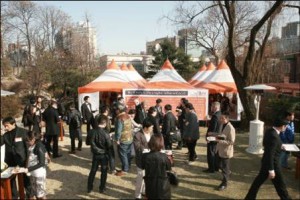 One of the things I love most about living in South Korea is the vibrant, dynamic and fashionable population. Koreans are world renowned for their love of style and are highly brand and image conscious.
So what better place for UKTI to host the third annual British lifestyle showcase? This marquee event in the garden of the Ambassador's Residence in Seoul (pictured left) highlighted the UK's many commercial strengths in the consumer goods and retail industries. In all, twenty five companies - almost all Small and Medium Sized Enterprises - from the fashion, textile, accessories and food/beverages sectors spent 5 days introducing their innovative, high quality products to the Korean market.
And boy did the Koreans love it.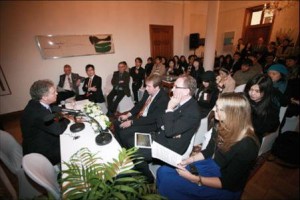 Over 400 guests participated and several top-tier Korean media outlets covered the event. Best of all though, the UK companies that participated secured business opportunities and commercial contacts in a rewarding and rapidly evolving market.
Yet while the lifestyle showcase was an undoubted success for those involved, the event was also representative of a wider trend in Korea - the impact British companies are having on daily life in the supermarket and on the high street.
High quality British consumer goods products are now becoming commonplace in the Korean market. In recent years, consumers had to venture to Hong Kong to secure these goods
The biggest driver of this change is the EU-South Korea Free Trade Agreement  (FTA) implemented in July last year.   As part of this agreement, tariffs on most goods imported to Korea from the UK are no longer imposed. UK companies are now reaping the rewards.
Companies like boutique, family owned cheese makers Lye Cross Farm are putting real cheese - believe me, something I definitely miss in North East Asia - in grateful mouths. Dorset Cereals sell delicious crunchy cereal to the masses. And Scottish luxury organic ice-cream producer Cream O'Galloway has broken through tough competition to secure a coveted place in a lucrative market.
And there's more to come too.
British food retailer Waitrose recently signed a deal to export a wide range of food to Korean high-end national department store Shinsegae. Branded home ware retailer John Lewis opened up its first two stores located outside of the UK in Korea this month. And Debenhams is due to set up shop in Korea's fourth largest city Daegu later in the year. They've all seen the opportunities that exist here.
Cumulatively though, these successes demonstrate that British companies of any size can do well in the Far East as long as they are driven.
They are also reflective of the fact that Koreans are astute and tech savvy consumers prepared to pay for quality.
So the message to all British retailers is a simple one. Do take a look at the possibilities that exist in the South Korean market. Do look into what the EU-Korea FTA means for your business. And do think of UKTI as your partner in introducing you to the opportunities of this dynamic country.
Laurence Burrows
UKTI South Korea, Seoul