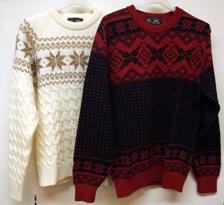 Ewe had better believe me that you missed a ewe-nique event last week.  On 13 May at the British Embassy, the British Wool Marketing Board presented awards to Japanese companies which have contributed strongly to the promotion of British wool.  The UK Trade & Investment Japan team supported the event.
For its high and long lasting quality, British wool is loved by a wide range of Japanese consumers and used in everything from apparel to bedding. 
This year's award winners are The Japan Wool Textile Co., Ltd. (apparel spinning), GIM Co., Ltd. (apparel), Hiraku Spinning Co., Ltd. (carpet spinning), Nissin Carpet Co., Ltd. (carpet), Hotta Carpet Co., Ltd. (carpet) and Marusan Mengyo Co., Ltd. (bedding).
Mr Tange, General Manager and Mr Koide, Textile Designer of the Japan Wool Textile Co., Ltd. excitedly told the story behind their award.  Approached by the British Wool Marketing Board, they invented a new form of textile utilising Poll Dorset lambswool.  Traditionally, the texture of British wool has been quite thick and heavy.  However, with the advent of this new textile, a light and versatile wool has been found offering a multitude of applications.
GIM Co., Ltd., another winner, has been producing British wool sweaters for around 30 years.  While their designs constantly change to reflect trends over time, the essential element has always been quality wool.  They commented that British wool is becoming increasingly precious because of its relative scarcity, which makes it even more attractive.
I'd feel sheepish if I forgot to mention that The Campaign for Wool Japan is expected to launch this autumn, following the UK's Wool Week in September.  Last year, a flock of yellow sheep invaded London so maybe we should keep our eyes peeled for uniquely coloured sheep invading?!
Hisayo Aoki
UKTI Japan
hisayo.aoki@fco.gov.uk