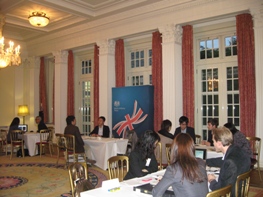 Under the branding of "DesignUK", the UKTI Japan team hosted our annual design service mission to Tokyo in the week commencing 25 October.  It was designed (no pun intended) to coincide with Tokyo Designers Week, which generates a similar buzz to the London Design Festival.
This year 7 design and branding consultancy companies joined the mission: Airside, Ara Design, Keechdesign, Merrington Design, PDD, Seymourpowell, tangerine and one design-led furniture company Ercol.  The networking event included meetings pre-arranged by the UKTI team.  Some 100 potential design buyers came to learn about the professional services available from the mission companies.  A showcase of British furniture was well-attended by 200 buyers and interior designers.  Both activities took place at the Ambassador's Residence and were followed by a reception.  David Keech of Keechdesign who has previously participated in the design services mission commented, "A very positive day, and I think the busiest yet!"  
 
Over the past few years, under the "DesignUK" brand, UKTI Japan has shown the Japanese audience how UK design consultancies can help develop their business for both the local and global markets, helping UK companies win a number of contracts as a result.
Akiko Yanagisawa
UKTI Japan
Akiko.yanagisawa@fco.gov.uk