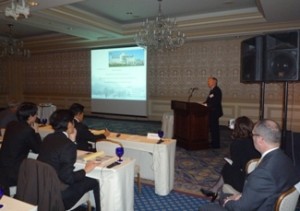 Friday evening and I am on the Bullet train travelling at 200 mph from Osaka to Tokyo at the end of the annual Healthcare Trade Mission to Japan. This year  11 British companies were represented promoting  a wide range of products and services in medical technology from Over The Counter hand-held breast-cancer detection devices to biomarkers for the early detection of Alzheimer's Disease.
With a rapidly ageing population, and an associated increase in diseases, such as diabetes, and cerebo-vascular disease as well as Alzheimers, Japan is always on the look-out for innovative high-tech products ; and the British companies were popular  with their prospective business partners promoting their products in seminars in both Tokyo and Osaka (see picture above), in one-to-one meetings, and press interviews as   well as building up a valuable set of contacts at  networking Receptions, all organized by UKTI Japan of course!.   
As usual we were fortunate that the Mission was once again led by one of UKTI's resident experts, Anil Vaidya, who adds value to the events not only through his expert knowledge of the Life Science Sector Sector, but also through years of experience of the Japanese market. This year Anil was exploring future opportunities in the field of Assisted Living.
This is a growing area of interest, and expertise in Japan, especially as social and demographic changes means that the traditional nuclear family structures are disappearing and home support for the elderly and disabled is becoming more important. So we visited a couple of prosthetics companies as well as a major rehabilitation centre; the latter was of particular interest to me as only a year ago I was myself in a rehab hospital in Japan, so have personal experience of the expertise already in the market, and so was keen to learn what value the UK can add to business opportunities here.
Medical and healthcare touches us all at sometime in our lives so it was rewarding to be involved in an event which promotes the best that the UK has to offer, and which hopefully in the longer term will lead to increased health for UK company profits.    
by Jeremy JL Hill, First Secretary,  Head of Life Sciences, UKTI Japan