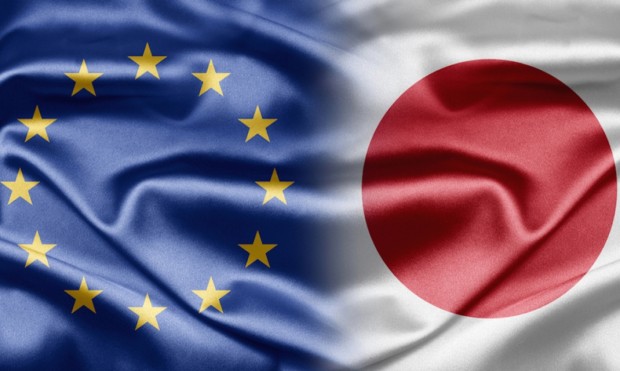 Hannah Perry of UK Trade & Investment Japan's Marketing Department takes an in-depth look at the EU-Japan Economic Partnership Agreement, and what UK businesses can expect once it has been finalised.
Is it just me or do we live in a world full of abbreviations and acronyms? When reading the news or at work or even when chatting with friends, I find abbreviating words are now the norm and their day-to-day use appears to be increasing. After living in Japan for a while, you come to recognise terms such as OL (office lady) or CM (commercial message) and start using them without thinking twice. My current acronym of interest is EPA and FTA or more specifically, the EU-Japan Economic Partnership Agreement and Free Trade Agreement. For the last two years, EU-Japan relations have been dominated by these two concepts and it seems the partnership agreement is now in the home stretch.
Since March 2013 the EU and Japan have participated in ongoing negotiations towards concluding a broad-based bilateral economic partnership, with the FTA at the core. It is no wonder that discussions began between these two bodies as both the EU and Japan have numerous areas of shared interest and the potential to stimulate mutual economic growth. Now, as the partnership continues to be pursued, negotiations focus on a number of different issues; non-tariff trade barriers, regulatory reforms, reduction of tariffs and public procurement, just to name a few.
Why is an FTA between Japan and the EU so important? Well since Japan is the EU's second biggest trading partner in Asia after China, the FTA can help to strengthen relationships between all EU member states and Japan. Plus, the FTA will likely have an impact on the EU's real GDP. In the past, EU bilateral FTA's have been a success – the EU-South Korea agreement reached in 2011 resolved the issue of an EU trade deficit with South Korea. This opened up British exports to Korea and the conclusion of the EPA will create further potential for UK businesses to penetrate the Japanese market.
What is the situation now? So far there have been eight rounds of negotiations and still no agreement. Finally in May 2014, both counterparts agreed to speed up discussions towards potentially concluding the agreement by late 2015. At this point, I started to wonder why negotiations are stalling and the main reason I could think of is yet another acronym. Both Japan and the EU are involved in separate regional agreements with the United States, the Trans Pacific Partnership (TPP) and Transatlantic Trade and Investment Partnership (TTIP), respectively. Due to the high profile nature of global trade, progress depends somewhat on these multilateral frameworks. But once all three partnerships are in place the business environment will transform, resulting in momentous steps towards sustainable economic growth and a new norm for regional and global trade.
'Mega' trade agreements, as they are often now referred to comprise negotiations of both breadth and depth. During the most recent round of negotiations in December 2014, a surprising debate ensued over differences in the definition of beer. To reflect on what I know to be beer, I began to reminisce about visiting beer factories across Europe and Japan, which I have found is a popular alternative tourist attraction when "sightseeing". You learn about the process of beer-making, investigate ingredients, smell the hops…But is there really a difference between Japanese and European beer? Under Japanese regulations, many foreign beers can't be considered beer due to the use of certain ingredients to add flavour, such as coriander seeds in wheat beer. So, domestic beers prevail in the Japanese market. In essence, the dialogue on beer is continuing and we must continue to watch this space as EU negotiators press for regulatory reforms.
Are the talks too ambitious? Ambitious, yes, but too ambitious, no - the EPA has the potential to be highly comprehensive, opening the market and allowing for greater transparency. As two likeminded trading partners, both based on liberal trade regimes and openness come together, it is just a matter of time until the negotiations are to be concluded. The potential opportunities that an agreement between the EU and Japan can create are considerable, with a positive two-way impact for foreign direct investment. 2015 is a key year for negotiations; the ninth round of negotiations having just taken place from February 23-27 in Brussels. Keep an eye out for regular updates on Export to Japan on the EPA/FTA this year and look ahead towards a new era of opportunities for British businesses.
UKTI helps many thousands of companies increase their profits and grow through export and inward investment every year
Find news and services information from UKTI
Arrange a meeting with a UKTI international trade adviser (UK cos. only)