Guest blog by Rosemary French, Executive Director of the Gatwick Diamond Initiative.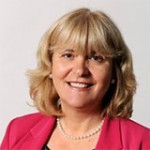 It's a striking fact that, even with recovery taking hold across the British economy, there still remains a huge amount of untapped talent which has the potential to unlock a surge of economic growth.
This well of talent, creativity and entrepreneurialism lies with women-led small businesses- a group of individuals I am determined to see thrive.
The simple fact is that if these businesses grew at the same rate as the national average, Britain could have an additional 10,000 exporters!
My own route into export was certainly not conventional, but the journey has shown me how accessible the opportunities are in the world of international exports for men and women alike.
I began my journey by joining the retail sector after graduation - a step which was quite unusual, particularly in the late 1970s, when retail was not considered a 'proper career'. But it was the cycle of invention, creation, development, design, manufacture and, ultimately sales that enthralled me, and that was enough for me to overcome these prejudices and apply myself to the sector.
By the age of 34 I had secured my first Managing Director role at a £20m greeting card and stationery manufacturing company with 120 employees, where I led the construction of a state of the art manufacturing and warehousing facility. However, the lure of owning my own business was something I couldn't resist, so I took the plunge in 1992 and bought into a publishing business, selling my house, liquidating some cash and relocating.
This business was subsequently bought by a larger company who asked me to lead the development of a completely new range of contemporary gift stationery and to open an office in New York to break into the US market, as well as European and Australasian markets.
Later I joined a competitor, Copywrite Stationery, as Managing Director. Whilst there, I worked with Warner Bros to design the Harry Potter book illustrations for the children's stationery licensing market - something which was both financially lucrative for the company as well as hugely satisfying for me as a Harry Potter fan! It was, and still is, a huge point of pride that I was involved in the licensing launch of this iconic British character, known the world over.
Since then I've been applying my experiences of the business world and have chaired the South East 'Women's Enterprise Group' which, with the help of Government funds, delivered workshops and conferences across the South East advising how to start and grow women led businesses. The organisation helped thousands of women make career choices armed with all of the necessary information.
I remain passionate about helping more women to start up in business and this is why I am throwing my support behind UK Trade & Investment South East's (UKTI) upcoming 'Women in Export' event, which is designed to help women-led business overcome whatever obstacles they are facing. The event will take place at the Arora Hotel Gatwick, with Gatwick Diamond on Thursday 13 November.
As well as attending events like these and consulting UKTI's new 'Women in Business' Guide, I hope that the following export top tips will be helpful for those wanting to succeed in the international marketplace:
1. Take things one step at a time
It will be tempting to pursue multiple markets at once but it's often best to focus on one or two markets at first. Though it might be the case that you encounter lots of potential business opportunities at once, by focusing on one or two markets you can really get a foothold and focus your energies on getting it right.
2. Show me the money!
Once you've found your ideal market, it's important to get to know the currency you will be dealing with. Consult foreign exchange providers as they have a wealth of experience and knowledge. Speak to your Bank as well as your UKTI International Trade Adviser about letters of credit and export finance.
3. It's the little things that make a big difference
Failure to take account of different cultures may lead to damaging or costly mistakes. This could range from causing offence by not observing protocol to using inappropriate packaging or marketing. In Japan, for instance, never put someone's business card in your back pocket as it's considered rude. It's best to take it in your hand and acknowledge it with a slight bow. Cultural faux pas are numerous, but with research and some gentle advice from your trade adviser, it's a minefield you can easily navigate!
4. Good things come to those who wait
Setting up overseas may not move as quickly as you expected; local customs and legislation can often slow things down. But, if you remain patient the rewards will very soon make themselves known to you.
With these tips in mind, I strongly urge female entrepreneurs from across the South East region to look at the possibility of exporting. You too can maximise your potential and take women-led businesses to the forefront of UK exports.
Contact the UKTI South East International Trade Team to find out what kind of support might be available for you
Email: info@uktisoutheast.com
Telephone: 0845 278 9600