5 Questions with …. Is UKTI South Korea's blog series where we find out more about the Korean market via small bites.
This month we talk to Hugo Fearnley (pictured) , Business Development Director for Nature's Laboratory, a healthcare and cosmetics family run company. We speak to Hugo about the company, their products, and what attracted him to the Korean market.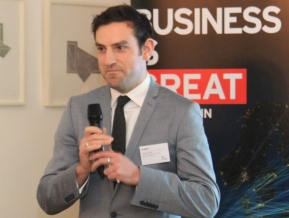 Q – Thanks for joining us today. Can you tell us a little about yourself, Nature's Laboratory, and your products? 
Hello, I'm Hugo Fearnley, Business Development Director for Nature's Laboratory. Our company was launched in 2002, and is a family run affair, with my father James the CEO, and my sister Cecily also involved. Within the company, we handle a wide range of activities and products based around natural healthcare. We currently have Herbal Apothecary, a line of  herbal products sold into the practitioner market, BeeVital - our natural healthcare range using propolis, and our newest range Sweet Cecily's skincare, which was developed via collaboration with our customer to create affordable natural skincare range.
Q – How did you first come to be involved in the Korean market?
Our CEO James had several propolis based business interests in 1990's and had contacts and trade in the East and South East Asia, so when we began our new company we naturally looked to Asia as we new it was a receptive and open market region for our products.
We entered Korea in 2006. We learnt a lot of lessons in those early years, and ended up changing distributors in 2010. We learnt a lot in those early years, and when we decided to launch our BeeVital range in 2013, we contacted UTKI to engage their support and advice.
Q – The Korean cosmetics and healthcare markets are already quite competitive with big domestic players. In your experience, how can UK firms compete?
Sometimes the old suggestions remain true, and in our case having a strong 'USP' was key. We differentiated ourselves by deciding when we launched to aim to be the world leaders in propolis research and development, and not to boast, but I feel we have achieved that. It is this unique expertise that has aided us in establishing ourselves in Korea.
Even though the market is competitive that doesn't mean smaller companies can't, or shouldn't, look to enter to it. We're a small, family run operation based in the Yorkshire moors, and yet we're always looking to explore new markets.
More advice? You need a 'Give it a go' attitude to exporting, but you also need to plan your entry well. It's important to understand the particular quirks and niches in every market, and Korea, like any market, needs that special research.
Q – How have you found Koreans perceptions to UK products?
The feedback that we have got in general in healthcare sector has been very positive, with the UK having a good reputation for reliable, trustworthy products. I get the impression that Koreans trust British people and firms to be honest and straight dealing in their business affairs. Despite the often focussed upon cultural differences here, we have also found many similarities in business culture and matters whilst here.
Q – Have you found any difference in the Korean consumers themselves and their expectations when purchasing?
The main consumer cultural matter to bear in mind from our experience is that Koreans are very happy to pay for quality, but with that comes a higher expectation of after-purchase care. Koreans are knowledgeable consumers and recognise quality when they see it, and therefore are willing to pay, but they are not looking for something disposable or short lived.