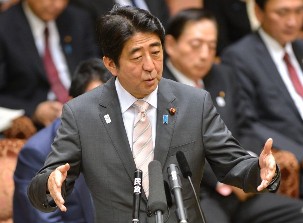 There's nothing like living overseas for getting to know your own country. Just in the past week Japanese acquaintances have asked me about the British Blue Guide system, how our variable VAT system works and why it is that British people are apparently perfectly relaxed about having their electricity or water supplied by a non-British company. Although I knew a bit about all of those things the questions sent me off to research them and now I know a good deal more. That the symbol of the Guild of Registered Guides is the flower "London Pride", for instance. I'm sure one day that nugget will come in handy.
All of these subjects are topical right now as Japan gears up for a new Growth Strategy - the third "arrow" of PM Abe's already notorious "Abenomics" policy. Japan knows that it needs to deregulate, encourage new industries, sort out its spiralling national debt problem and become more global in its outlook, welcoming more foreign students, foreign tourists and foreign businesses. So they're in the market for ideas about how to go about that - and nurturing a cadre of tourist guides, reviewing the tax system and creating an environment conducive to foreign investment are all on the agenda.
There's a good tradition of Japan learning from British systems and know-how. Political manifestos, juries, ISAs (just introduced) and Prime Minister's Question Time have all found a place in Japan via the UK - although David Cameron did feel obliged to apologise to his then counterpart for the last of these when he met him last year. There's huge interest right now in UK arrangements for the governance of nuclear safety, and in Government Scientist network that informs evidence-based policy decisions. And of course learning can work in both directions: where would British industry be without Japanese manufacturing techniques like Kaizen and Just-in-Time?
It's not just the government that is looking to the UK for inspiration and advice: Japanese companies are also eager to access British expertise. Trading houses moving into new markets in Africa, Asia and elsewhere turn to British companies for their risk analysis; exporters needing to nurture a more internationally-oriented workforce seek out British education and training programmes; those acquiring foreign companies want British consultants to help them figure out how to maximise the synergies; manufacturers hunt out British designers to give their products a special edge. And so it goes on. The head of one of Japan's top private sector Research Institutes told me this week that his 3 most reliable sources of expertise and insight were the Financial Times, the Economist and Oxford Analytica. Spot the common link? No wonder services (including licencing income) account for a good 50% of British exports to Japan.
My team in UKTI Japan also have their fair share of expertise and insight - this time into the Japanese market. If your company is wondering whether this market might be for you do get in touch - we'll help you to decide whether it is or not, and if it is we'll help you with your first steps.
Meanwhile, next on the list for learning from Japan: how to run a high-speed railway system that manages to keep delays to an average of just 30 seconds and has a perfect safety record across 49 years of operation. Now that would be worth knowing!
Sue Kinoshita
Director of Trade & Investment, UKTI Japan