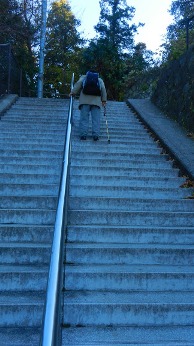 Not sure if I should be worried or not, but my husband has suddenly developed a need to reconnect with his youth. Fortunately not by splashing out on racy sports cars or seeking a young trophy girlfriend (at least, I don't think he's doing that). Instead it's taking the relatively benign form of wearing skinny jeans, and rediscovering his old haunts. I joined him the other weekend on one of his nostalgia trips to revisit the area of Yokohama where he grew up.
The walk from the closest station to the hilltop housing estate where he lived took us under the bullet train line - the very first stretch to open, back in 1964. My husband was just a toddler at the time, but remembers the excitement of seeing the first, snub-nosed trains shooting through the rice-fields that then lined the valley. Not much agriculture left now - just sprawling lines of rather ugly apartment blocks, a bit of light industry and lots of carparks.
Up on the hilltop though, relatively little seemed to have changed, at least physically. A few large houses in traditional style, most still in the ownership of the same family - easy to tell when there are big notice-boards showing the layout of the estate with the name of the resident of each plot. No urban anonymity here! My husband could remember whose mother made the best tempura, and the house where he played basketball, the ring still attached to the outside of the garage, and the persimmon tree from which he used to steal fruit on the way home from school.
His old primary and junior high schools were still there too, looking rather the worse for wear now, but spanking new when he was a pupil, freshly-built to accommodate the young families flocking to Tokyo and environs to work in the booming, revitalised, Olympic-cheered economy.  The serried ranks of low-rise apartment blocks where they lived were still there too, incredibly neat and tidy, not a sign of graffiti, though in need of a lick of paint, and some lifts. Most striking was the number of parks and playgrounds, clearly built with the needs of those growing young families in mind, but now lying empty, despite it being a fine, blue-skied Sunday afternoon. The local shopping arcade also told the story of an aging community: shops selling home nursing aids, doctors' surgeries galore and a daycare centre.
One small community within the second largest city in Japan, but illustrative of the changing dynamics of economic development: from a young, urbanising, upwardly-mobile population, flashy new infrastructure, a new place on the world stage and a heady sense of possibility - rather like the new developing economies on the block today - to a much staider, more cautious, aging population, infrastructure in need of a good dose of refurbishment and a sense that maybe it's time to consolidate and get back to the basics of home and solid, traditional values.
But if that sounds like a country in decline, think again: that aging population, that built Japan's great economic and industrial success, is sitting on plenty of disposable income, and ready to spend it on their homes, their grandchildren, their pets and themselves - the brightest lights in the shopping arcade were at a nail salon, where a couple of ladies who must have been in their 70s at least had opted for a glittery leopard-print design (clearly my husband's not the only one searching for his lost youth).
And the new government has pledged a fresh injection of funding to upgrade all the aging infrastructure. The collapse of part of the ceiling of an expressway tunnel in early December, killing several motorists speeding through it at the time, was a reminder that the majority of Japan's roads, bridges, tunnels, sewers and other public infrastructure - including the tired-looking school buildings and apartment blocks that we saw on our weekend stroll - dates back to the boom years of the 60s and 70s or the bubble years of the 80s. Someone has counted the number of bridges in Japan - over 700,000 of them as of April 2012 - and most of them were 20-50 years old. The number that were closed for repairs due to aging was 70% higher that month than it had been 4 years previously.
Getting all of that infrastructure back up to scratch, retro-fitting buildings to make them more energy-efficient, re-furbishing for new purposes and modern lifestyles is going to provide a real fillip to the economy. The construction sector has traditionally been one of the most difficult to break into for foreign companies, but the EU's decision in NOvember to open negotiations with Japan on a Free Trade Agreement offers the prospect of deregulation and easier access to government procurement. And the UK's ingenious technologies and design expertise which we've used to keep our own, much older, housing stock and public buildings fresh and fit for 21st century living while remaining true to the original, ought to strike a chord with tradition-loving householders who would rather keep the house in the same family for generations than move to find a house that meets their changing needs.
And with Tokyo again bidding for the Olympics, the move back to 1960s optimism seems complete -  so maybe my husband, far from being stuck in the past, is actually right up with the times. Clearly I need to join him. I wonder if blue polka dot nails would look good on me?
Sue Kinoshita
Director, UKTI Japan