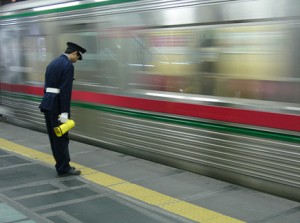 One of the frustrating things about living in a house on the Embassy compound, apart from seeing my office every time I come out of the front door, is not receiving mail deliveries when the Embassy is closed. Not usually a problem, except at this time of year: the Japanese tradition is to deliver all New Year's greeting cards on the morning of 1 January, all neatly tied up in bundles. But because the Embassy is shut on 1 January, and the Post Office for several days thereafter for its own holidays it was 4 January before we got ours.
Fortunately our Christmas presents got through, as the courier companies that are such a feature of life are much more flexible. These delivery vans, usually with whimsical animal logos (black cats, pelicans, bears) are ubiquitous.  Going on a skiing holiday? Send your gear on in advance so that you don't need to lug it on the train. Student at university? Send a weekly bag of washing back to Mum to wash and return to you (cheaper than going to the laundrette). Glut of apples on the tree? Send boxes of windfalls out to all your friends. With collections and deliveries from any private address or any convenience store, same day delivery and eminently reasonable prices it's convenience in a box.
The other great thing about the service is the delivery staff, who are always prompt, polite, cheerful and beautifully turned-out. The man who delivered some potatoes from a friend's allotment to us just after Christmas told me with great pride of the ways in which he seeks to provide the best possible service to his customers: he always tucks in his shirt, polishes his shoes, rings ahead if he is going to be more than 5 minutes later than scheduled. In the summer the heat and the running up and down stairs mean that he gets very sweaty, so he makes a point of changing his shirt every two hours – he owes it to his clients, he says. And all that heaving of boxes takes its toll on your hands, so he always carries hand cream in his van so that his hands are soft and smooth when handing over the paperwork for signature. Now I may be doing our wonderful postmen in the UK a disservice, but I bet there aren't many of them who carry a tube of Nivea in their pocket.
It's all part of the service, the customer-centred way in which Japanese companies do business, the attention to quality and detail that are so important in every aspect of life here. It shows that you take pride in your job and your company, and that you care. The speed with which you respond to e-mails, the dent-free packaging in which your products must arrive, the reverence you show for your client's business card: every little thing you do is sending a message about you, your company, your respect for your customer and your seriousness of intent.
It's as though that man taking your toll on the expressway with such good cheer, politeness and economy of movement was put on earth to do precisely that job. Or the guide who showed me around the Toyota factory and was contrite that she'd "only" come up with 23 ways of doing her job better so far this year was giving every fibre of her being to ensuring that she was giving the best service she possibly could. Fortunately the Japanese do make allowances for uncouth, "that'll be good enough" foreigners like me. But they love it when foreign companies are sensitive to their cultural love of quality, precision and respect. So when you're on your next business trip to Japan, along with your samples and sales literature don't forget to pack your Vaseline Aloe Vera handcream (other brands are available).
Sue Kinoshita, Director, UKTI Japan