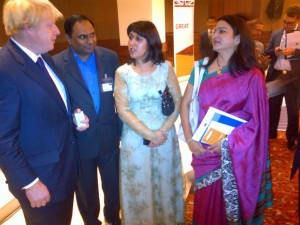 The companies I meet assume I spend most of my time travelling overseas. In reality, I personally attend very few trade missions, as I am focussed on encouraging more companies to export from London.
But I'm currently in Mumbai for my first overseas visit this year.  I'm here for seven days as part of the UKTI India Scholarship programme and the London Chamber of Commerce's trade mission delegation (which UKTI are supporting), to coincide with parts of the Mayor of London's visit.
This is just one of over 30 trade missions that my regional team in London will have supported this year, as it's vital to get companies out to their target markets.
We don't run all these missions ourselves, we don't fully fund them either - we don't have the resources. We make this happen by collaborating with others to achieve the biggest impact for London business.
The India visits have been carefully planned and came about through a consistent and prolonged effort by the overseas UKTI teams in Hyderabad, Delhi and Mumbai, the Greater London Authority, the London Chamber of Commerce, the London University International Partnership (LUIP), the SP Jain Institute of Management in Mumbai, London and Partners and UKTI London International Trade Team.
Boris Johnson  (pictured above) was visiting three cities and I'm very grateful to him and his business delegation, for interacting with the 25 delegates on the UKTI India Scholarship programme and the London Chamber trade mission.
The companies have done a great deal of things so far as part of the seven day trip.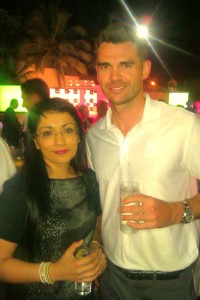 On Wednesday night the India Scholarship delegates were invited to a reception held by the British High Commission in Mumbai. This event presented an invaluable opportunity to network with Indian business and the chance to say well done to the English Cricket Team; a real privilege to congratulate them in person.
Earlier in the trip, in Hyderabad, Boris banged the drum for London exporters at the London Chamber networking reception. Speaking to one company, I was pleased to hear that even in a short time, they were already benefitting from our support. EBSI, a London-based SME on their first trade mission and looking to make contacts in India had already met with four key organisations and have not only been asked to return, but also to send then a brief outline of programmes and services that could be tailored. Their Managing Director, Jamela Khan, told me that she hoped to return early next year to pilot their education programmes. She also said that the support from UKTI and LCCI to meet the right people had been invaluable and she would not have been able to attend the mission without financial support from UKTI. This is what we do.
On the UKTI Scholarship programme we ran a session with our UK delegates and Indian family owned businesses on negotiating. On a one-to-one basis we had to close a deal, acting as the buyer or seller.  We had more Indian counterparts, so I was able to join in. I'm pleased to say I got a pretty good price, much to the dismay of my Indian business (but only when after he found out what others had closed at!) It was a lively session and lessons were learned by the both the UK and Indian companies.
I have seen many times the value of attending this scholarship. Many of our alumni have gone on to do successful business in India. I was reminded of the importance of getting under the skin of the market in conversation with Daniel Cremin from Climate Change Capital. He told me what a valuable introduction the course was to building your business in India and how it was already helping him to understand India's unique business landscape.
The companies have been delighted with the trip so far. We're heading back tomorrow and they have gleaned contacts, gained valuable knowledge and confidence.  One of the firms said to me: 'Thank you for giving me the confidence to do business in India, this is beyond my expectations'.
If you would like to register your interest for next year's scholarship programme in India, please email the project manager in London: sara.french@ukti.gsi.gov.uk