Why is that the weather's always glorious during the week and then come Saturday it pours with rain? Well, maybe not always, but certainly that's been the pattern here the last two weekends. Never mind, it's provided the perfect excuse to take cover and check out two fabulous new British-designed shops that have just opened in Tokyo.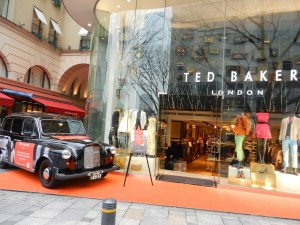 One is the new Ted Baker  store, their first in Japan, on a prime location in the swankiest shopping street in Tokyo. The store has been under wraps with a "coming soon" sign for what seems like months, and on entering you can see why: they were clearly taking their time to get every little detail just right. The theme is communications, smartly drawing a line between all the great British communications inventions of yesteryear (telephone, TV) and the digital communications revolution that Japanese companies have done so much to drive. Old-fashioned dial-phones,radiograms and lots of artfully-draped telephone wires form a backdrop to a kind of mid-century retro interior, goldleaf ceilings reminiscent of Japanese lacquerware and, of course, the full range of Ted Baker clothes and accessories with their signature humourous details. All their lines have been carefully resized and some of them specially designed for the Japanese market. I loved their opening party, which featured Pimms and millionaires shortbread (now that's my idea of party food!), and free rides back to the station in a London taxi. Best of all were the staff, who all seemed to have a real passion for the brand. With its attention to detail, quirkiness and commitment to customer service I think this is one British company that is destined for great things in Japan.
My other retail destination was a new branch of the book and DVD store Tsutaya (below)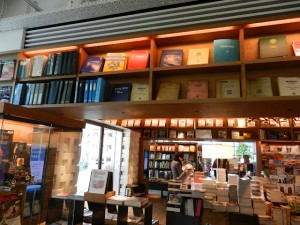 , designed by Tokyo-based British architects Klein Dytham. Here is a concept that is challenging current thinking by betting on analogue - loads of books, magazines, DVDs and even vinyl - and by targetting the over-50s. A smart move, given that this is the fastest-growing demographic in Japan.  Each area of the store has a different theme (cars, art, travel etc) and is "curated" by an expert in the field (who has to be over 50), with eclectic selections of media offerings. New media is there too, as a facilitator - you can browse all their stock on strategically-sited i-pads. I don't usually manage to feel very hip, but reading in this weekend's FT that that arbiter of good style, Tyler Brule, had shopped there a couple of weeks ago made me feel just a little bit cool. See http://www.japantrends.com/retail-innovation-daikanyama-t-site/ for more on this unique new development.
It's great to see British design succeeding so visibly in Japan. UKTI has been promoting UK design services here for over 10 years.To begin with Japanese manufacturers were mystified by the concept of outsourcing their design - "we've a perfectly good in-house design team, so why would we need any help?" was the typical reaction. But as competition has intensified, customer tastes become ever more sophisticated and the need grown to make products more attractive to a global customer base they've started to see the value of bringing in new ideas. So you can now see the hand of UK designers in everything from Yamaha motorbikes and Nissan cars to hotel interiors and playground equipment. If you're in the design business give us a call - we'd love to help you make your mark on the Japanese market too.
Sue Kinoshita, Director of UKTI Japan