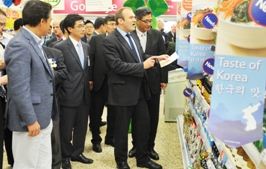 The FTA is headline news in Korea. The Korean public know about the FTA and understand its significance. They also know they will pay cheaper prices for EU goods. Not surprisingly, many companies are busy compiling new marketing strategies to entice already-excited-customers.
We in UK Trade & Investment would like to encourage British companies to take advantage of the FTA. Here are the top three FTA benefits:-
1.     Tariff elimination for UK exports
The FTA has the potential to benefit the UK by £500 million annually, by removing 97% of tariffs in just three years. Some tariffs will disappear immediately.
2.     Improved consumer perception
The UK has a good image in Korea and "Brand Britain" is strong. The Korean public will embrace "Brand Britain" knowing they no longer need to pay tariffs.
3.     Enhanced protection of intellectual property rights
The FTA includes a comprehensive chapter covering stronger provisions on intellectual property protection. The scope is very broad, including not only copyright and trademarks, but also designs, services marks and much more.
These are only a fraction of the benefits from the FTA. UK Trade & Investment has published a report offering British businesses an analysis of the most promising opportunities, sector by sector, which the FTA would generate. Click here to download the report.
photo: UK Trade Minister Ed Davey visits a "Taste of Korea" exhibition at Tesco in New Malden. New Malden is the largest Korean community in Europe.