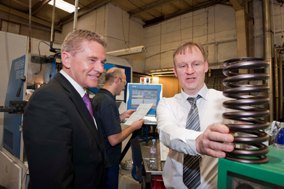 I have just returned from a two day tour of Lancashire, an area which I'm afraid I visit all too infrequently, despite having an aunt living in Blackpool.  Now when you think of Lancashire what do you imagine?  Is it the iconic 518ft Blackpool Tower?   Is it the wonderful countryside in the Ribble Valley or the Trough of Bowland?  It may be the cotton mills or possibly the cheese.  (Incidentally, I was recently introduced to the beautiful Blacksticks Blue Cheese made in Lancashire and if you haven't yet tried it you really must.)
 
What you probably don't think of when you think of Lancashire today is its manufacturing industry - but that would be a mistake. Lancashire once relied heavily on its cotton industry and at one stage during the early part of the last century two thirds of its workforce was employed in this sector.  Today, however, Lancashire's manufacturing industry is both modern and diverse, encompassing aerospace, nuclear, technical textiles, chemicals and advanced engineering. 
During my visits to various exporting companies in Lancashire I was incredibly impressed by the quality of the manufacturing, the technology and the level of investment being made. Evans Vanodine  in Walton Summit manufactures a world leading range of janitorial products including disinfectants designed to prevent the spread of foot and mouth and bird flu.  They are expanding their export department and looking further east but already export a third of their turnover.
Performance Springs  in Lytham St Annes manufactures high quality precision springs products in engine valve and fuel injection systems.  Their customers range from ocean going cruise liners to Formula 1 cars and have applications where there are high-risk, critical equipment issues calling for ultra reliability.  They currently export 45% of their turnover and are looking to expand by up to 10% per annum.
SWS UK  has recently become the 2000th sign up to UKTI's flagship Passport to Export programme ,  and is already seeing some success in the Gulf region.  They manufacture high specification security shutters and doors for a variety of domestic and industrial uses.
Andrew Webron  in the Rossendale Valley is a company that builds on Lancashire's textiles heritage but now makes high specification industrial filter systems for use in the aluminium, cement, steel and pharmaceutical industries.  Last month alone they took export orders of £460,000 and export 75% of their £20m turnover.
I was impressed in all sorts of ways but I would like to highlight one thing that all the companies do that makes them stand out.  They talk the customer's language.  They get out to market and work hard to be successful and at Andrew Webron there are staff speaking ten languages so it's a real case of Lancashire reaching out to the world -  and being pretty darned successful at it, I may add.